---
 Click Here For BC Wildfire Service Burning Restrictions

---
Burning Permits
Thinking about burning? Do you have authorization from the BC Ministry of Forests or your local municipality for the burn?
BC Ministry of Forests Burn Authorization Line:
1-888-797-1717

100 Mile House Fire Rescue:
250-395-2152

Ventilation Index Line (Mon-Fri):
1-800-663-7867
http://www.bcairquality.ca/readings/ 

 

All Burning Within The District of 100 Mile House Requires a Burn Permit

Click The Link Below or Visit the District Office to Complete Your Application

      
---
Fire Safety Plan for Local Businesses
Fire Safety Plans may be required for local businesses.  Please contact 100 Mile House Fire-Rescue for more details.  
Box 340, 100 Mile House, BC, V0K 2E0
#1 385 Horse Lake Road
250-395-2152. 
---
Fire Prevention
New Videos!
The Fire Chiefs Association of British Columbia has launched a hard-hitting smoke-alarm campaign that targets vulnerable populations.
Please CLICK HERE
Our Fire Prevention Division led by FPO Shawn Nelson works to reduce fire losses, injuries and deaths within our protection area by providing the following:
Fire Safety Presentations
Fire Safety Inspections
Residential Smoke Alarms Program
Fire Investigations
Fire Extinguisher Training
To take advantage of one or more of the above opportunities please contact:
100 Mile House Fire-Rescue
Ph: 250-395-2152
E-Mail: 
Fire Prevention Week!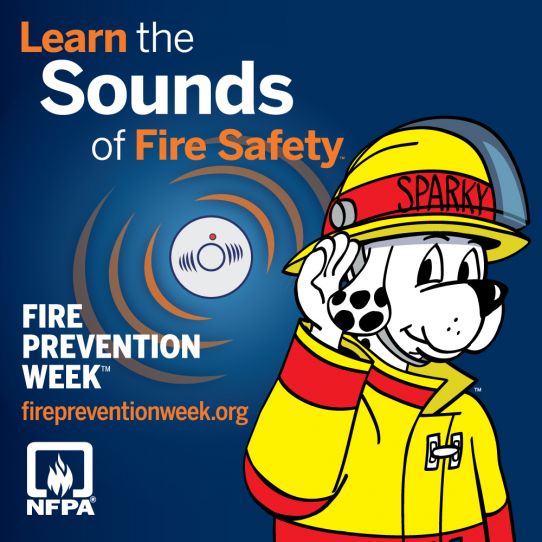 Every year Fire Prevention Week is designed to educate people about the importance of Fire Prevention and Protection. 100 Mile House Fire-Rescue is committed to educating the public and this is a busy week for educating families on fire and burn prevention. Thank you to all the members who help make Fire Prevention Week a success!
Nobody expects a fire emergency. Fire incidents are accidental and planning ahead is the best tool you can have to prevent loss of life and property.
LOOK for possible fire hazards in your home and eliminate them.
LISTEN for your home's smoke alarms. Know that you may have only minutes to get out if a fire breaks out.
LEARN two ways out of each room of your home. Exits should be easy to access and free of clutter. After leaving the home, go to your family's designated meeting spot, established when you set up a home fire escape plan.
SMOKE DETECTORS SAVE LIVES!
100 Mile House Fire-Rescue reminds you to buy, install and regularly check smoke detectors throughout your home. We recommend you place one on every level of your home or business. One in all sleeping areas including bedrooms and guest rooms. Follow the instructions on how to use, maintain and replace smoke alarms. Remeber to plan ahead! Practice your fire escape plan at lease once a year and update it as needed.
Test smoke alarms once a month.
Batteries should be changed yearly. A good time to change your batteries is when we change our clocks during daylight savings time
A chirping sound means a new battery is needed.
Keep your smoke alarms clean, they should be vacuumed monthly and not placed in dusty or greasy areas.
Smoke alarms should be replaced every 7-10 years.
Make sure everyone in the household knows what your smoke alarms sounds like and more importantly knows what to do when it does! Teach your children how to safely escape the house when there is a fire. Teach them how fire and smoke behave, to stay low and test the doors for heat before opening and to get out of the house! Remember, NEVER go back into a burning house!
CARBON MONOXIDE POISONING - BE AWARE!
You cannot see or smell carbon monoxide,but at dangerous levels it can kill a unsuspecting victim in minutes. Carbon monoxide is produced when any fuel such as gas, oil, kerosene, wood, or charcoal is burned. If applicances malfunction or are used incorrectly dangerous levels of carbon monoxide can result.
Be aware of the systoms of carbon monoxide poisoning. Moderate levels can cause severe headaches, dizzyness, confusion, nausea or fainting. Moderate levels can even cause death over a long period of time. Low levels can cause shortness of breath, mild nausea, and mild headaches and can cause longer term effects on your overall health. These symptoms can be a result of a number of things, a person may not be aware that carbon monoxide poisoning could be the cause.
If you or anyone in your family experience symptoms that you think could be caused from carbon monoxide:
Get Fresh Air Immediately. Open doors and windows, turn off combustion applicances and leave the house.
Go To An Emergency Room and inform the staff you suspect carbon monoxide poisoning. Carbon Monoxide poisoning can be diagnosed through blood tests soon after exposure.
Prevention is the answer to avoiding Carbon Monoxide Poisoning
Have your fuel burning applicances regularly maintained. Make sure your flues and chimneys are connected and in good condition.
Choose appliances that vent their fumes to the outside whenever possible, have them installed and maintained by a professional.
Carefully read and follow all the directions that accompany any fuel burning devices.
NEVER idle your car in a garage - fumes can build up very quickly in the garage and living area of your home.
Do NOT use a gas oven to heat your home, even for a short time.
NEVER use a charcoal grill indoors.
Do NOT sleep in any room with an unvented gas or kerosene space heater.
Do NOT use any gas powered engines in enclosed spaces.
Do NOT ignore symtoms, particularly if more than one person is feeling them. You or your loved ones could loose consiousness and die if you do nothing.
Public Notices
SAFETY ALERT!

Click Here for the Clothes Dryer Appliance and Venting Maintenance (PDF)
Notice to owners, occupants, and maintenance personnel.